Raspberry Smoothie Recipes
by Lisa
(Osgood, Indiana, USA)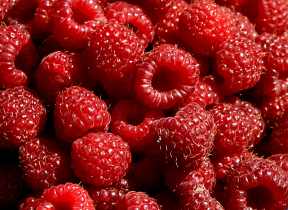 This is my favorite smoothie recipe - raspberries are my favorite fruit. I prefer to use fresh black raspberries, I gather them when they're ripe in my area and freeze what I can't use right away. Picking your own wild raspberries is a LOT of work, but the taste just can't be beat!


I also use this recipe later in the summer when fresh peaches are ripe, you'd have to use the raspberries you've frozen, but yum!
Raspberry Smoothie Recipe
1 cup unsweetened frozen raspberries
1 cup skim milk
Variations:
Remember, smoothie recipes are versatile! Try adding 1/2 c. yogurt instead of skim milk. The yogurt can be plain or a fruit. (Try peach yogurt!)
Try this recipe with a few slices of fresh peach added in (up to 1/2 cup)
*Always try to use fresh fruit for smoothies - they have the most vitamins and there's no added sugar like most canned fruit!
I do my best to make this site a valuable resource just for you, my visitor, to help you improve your health and fitness. If you've found this information helpful, please share it with your friends, so they can benefit from it, too.