My advice for recovery after c-section...MOVE!
After 24 hours of labor and four hours of pushing, I had to have an emergency C-Section for multiple reasons.


I was scared, upset, felt like a failure but made it through! First, it is important to know that the first few days you WILL HURT! Stay in the hospital for as long as you can! We were in for 6 days and I am glad! I did start walking around day two. I made small steps. Day two, I got out of bed, went to bathroom and sat in rocking chair for a few hours here and there. I ALWAYS took pain meds, still am after three weeks! Do not fall behind on these! Day three I walked with my husband slowly to the nursery. I also showered this day! Keep in mind, I also rested ALOT on these days.
When I got home I rested for the first week, but made dinner, played with my oldest child, and walked throughout the house occasionally. This week, my third week I am still sore, a little more tender than I was before. I am walking outside, back to household chores, not all but some...and doing light arm strengthening. The key is the more active you are, LIGHT ACTIVITY that is, the quicker you will heal, and the better you will feel! I will not resume normal workout until week 8 or 9, but for now, I am feeling better than expected!
---
Post Pregnancy Weight Loss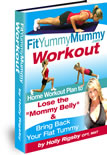 Fit Yummy Mummy
So many women struggle to lose post pregnancy belly fat. This book has the answers for you! It's designed just for women by a woman who struggled just like you!
Click here to read more
I do my best to make this site a valuable resource just for you, my visitor, to help you improve your health and fitness. If you've found this information helpful, please share it with your friends, so they can benefit from it, too.