Mango Green Tea Smoothie
by Amanda Carpenter
(Pittsburgh, PA, USA)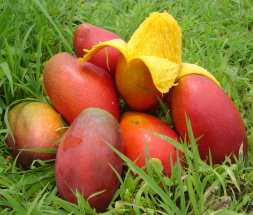 1 decaffinated white or green tea bag


2/3 cup water
1/2 cup mango, cubed
1 wedge fresh lime juice
2 cups crushed ice
Directions:
Heat water and brew tea. Let cool.
Place cooled tea, mango, lime juice, and crushed ice in a blender and blend until thick and smooth. Adjust ice to the consistency you like best.
The fruit will naturally sweeten this smoothie but for those who want a little more sweetness any type of sweetener can be used.
I love the mango in this smoothie...it is really refreshing.
You can also try this with other fruits.
I do my best to make this site a valuable resource just for you, my visitor, to help you improve your health and fitness. If you've found this information helpful, please share it with your friends, so they can benefit from it, too.