Fruit Medley Protein Smoothie
by Amanda Carpenter
(Pittsburgh, pa, usa)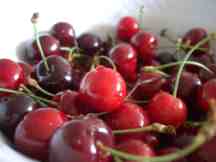 Ingredients:


1 tbsp of protein powder(or recommended amount)
4 strawberries
8 cherries without seeds
5 peach slices
1/2 a banana
1 cup of nonfat milk
Directions: Blend the assorted fruits with the milk, begin adding the powder as the texture becomes smooth. The milk may also be replaced with orange juice or fruit punch for a non dairy protein smoothie.
I love the fact that you can add so many different types of fruit to this smoothie.
I love to make this smoothie with fruit punch instead of the nonfat milk.
I do my best to make this site a valuable resource just for you, my visitor, to help you improve your health and fitness. If you've found this information helpful, please share it with your friends, so they can benefit from it, too.