C Section Recovry
by Trish
(New Jersey)
I think for the most part, was to get up and move as soon as you can - I would get up in the hospital walk slowly to the nursery, and get my baby for the whole day and put him back at night time to get rest.


The more you walk around slowly the better, and the stomach ace bandage worked great - I let my husband help me with that.
It's now 4 months later and I feel great - I do get little twinges when it is cold out but I feel good - I still wear the bandage when cleaning around the house and sometimes to the gym.
I also ate a lot of protein in the beginning and took my folic acid and vitamin e and my prenatal vitamins until my 6 week appointment. I love carbs but that seemed to make my gas worse. (he, he)
---
Post Pregnancy Weight Loss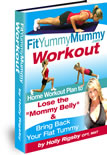 Fit Yummy Mummy
So many women struggle to lose post pregnancy belly fat. This book has the answers for you! It's designed just for women by a woman who struggled just like you!
Click here to read more
I do my best to make this site a valuable resource just for you, my visitor, to help you improve your health and fitness. If you've found this information helpful, please share it with your friends, so they can benefit from it, too.