C Section Recovery
by Dede
(Pembroke Pines, FL )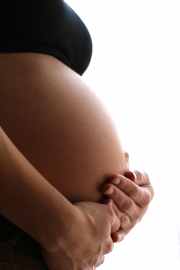 Here is my story about my C Section Recovery. Three weeks before my due date, I left work to go to my normal doctor's appointment. At my appointment the doctor asked if the baby was still kicking at the same rate as before.


I remember thinking a few days prior to that the kicking had slowed down. When I informed my doctor she sent me to the hospital just as a precaution. Anyway, the doctor on call first decided to induce labor and when I wasn't dilating, decided to have emergency C-Section. After the C-section I had my first adorable baby girl and I was elated.
To get back into shape I first invested in a support girdle, which provides needed support to weak stomach muscles. Second, I did exercises that involved using what I had at home. I started with only a few bending over and touching my toes. I also used my stairs by stepping up and down doing as much as can.
As I slowly gained some strength, I increased these exercises and also started taking leisurely walks with my baby.
As for my scar, I continued using cocoa butter, which I used throughout my pregnancy (to avoid stretch marks). I think it took me about 3 weeks to fully recover from the C-Section but to get back in shape involved watching my diet and increasing the exercises until my doctor gave me the okay to do full workouts.
Post Pregnancy Weight Loss
So many women struggle to lose post pregnancy belly fat. This book has the answers for you! It's designed just for women by a woman who struggled just like you!
Click here to read more
I do my best to make this site a valuable resource just for you, my visitor, to help you improve your health and fitness. If you've found this information helpful, please share it with your friends, so they can benefit from it, too.