Berry Berry Good Yogurt Smoothie Recipe
by Bonnie
(Wahiawa, Hawaii, USA)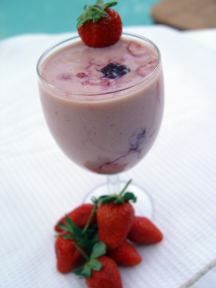 2 cups frozen mixed berries


1 TBS honey
1 medium banana, sliced
1/2 cup plain or vanilla yogurt
1/4 cup cold
green tea
If you use frozen fruit, you don't have to dilute the smoothie with ice cubes. I like a blueberry, raspberry mix. Any frozen fruit mix you like will work.
Combine all ingredients and blend till smooth.
I do my best to make this site a valuable resource just for you, my visitor, to help you improve your health and fitness. If you've found this information helpful, please share it with your friends, so they can benefit from it, too.