Ab Roller Exercise Wheel Picture
by Sathish
(India)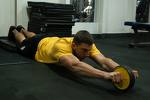 The simple exercise to make your abdomen sleek and sexy is the roller exercise.


All you have got to do is first you have to sit in a kneeling position. Hold both your legs firmly to the ground.Place the roller on the ground and with slow pace slide the roller onto the ground. Make this movement until you feel the abdominal muscle stretching. Please make your that you place your legs firmly on the ground or else you might risk with breaking your nose.
Ten repetitions of stretching make you feel like you have lost ten pounds.
Continue this exercise for getting better abdomen.
Join in and write your own page! It's easy to do. How? Simply click here to return to Abdominal Exercise Pictures.
Spread the Word ...
I do my best to make this site a valuable resource just for you, my visitor, to help you improve your health and fitness. If you've found this information helpful, please share it with your friends, so they can benefit from it, too.