6 Second Abs a Waste of Money
by Sharon Brown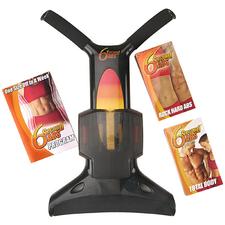 I have always had a tummy and now that I have two children, it is a constant struggle to maintain my abs. So I have tried everything you can think of. But the worst by far has been the 6 Second Abs machine.


It is used sitting in a chair with the base in your lap. You lean against the the top and use your chest to press it down toward your legs. The machine uses more of my back muscles than my abdominals and it left bruises on my chest and shoulders. Those areas hurt after use but my abdomen felt nothing.
It was an impulse buy that should have stayed in the store.
Spread the Word ...
I do my best to make this site a valuable resource just for you, my visitor, to help you improve your health and fitness. If you've found this information helpful, please share it with your friends, so they can benefit from it, too.