Exercise Advice Journal - Issue #002
October 30th, 2004
With the Exercise Advice Journal, you will stay motivated for exercise through Shelley's encouragement and support, learn new exercises to keep your workout fresh, get your fitness questions answered and receive healthy recipes for you and your family!!
If you like this journal, please do a friend and me a big favor and 'pay it forward.' If a friend DID forward this to you and if you like what you read, please subscribe by visiting https://www.abs-exercise-advice.com/journal.html
---
TABLE OF CONTENTS
1. Exercise of the Month - Chair Toe Touches...To Strengthen Your Abs While Sitting in Your Chair At Work!

2. Fitness Blog Tidbits - Your Abs...More Important Than You Think!

3. Fitness Action Step - Setting Goals Part 2

4. Healthy Cooking Tips & Recipes - Pork Chops With Apples

5. Ask Your Fitness Questions - What is Your #1 Most Pressing Fitness Question?

---
EXERCISE OF THE MONTH - Chair Toe Touches
a. Position: Sit on edge of a chair, holding sides of the seat for support, lean back and press upper back firmly against the chair.
b. Target Muscles: Your abdominals, esp. rectus abdominals.
c. Step by Step Instructions: Lift legs off floor and bend knees to 90-degrees with calves parallel to floor. Slowly lower toes to touch the floor. Return to start position and repeat.
d. Beware of Cheating: Be sure to use your abs to keep back from arching and keep upper body in place throughout this exercise.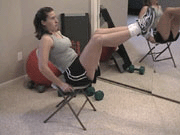 FITNESS BLOG TIDBITS
Your Abs....More Important Than You Think!

What comes to your mind when I say the word "abs"? Do you think of the infomercials advertising "6 second abs" or the latest Sports Illustrated Swimsuit issue? Most people focus on training their abs to look thinner or sexier. But, do you realize the importance of your abs in everyday activities?

Read the rest of this article at: www.exerciseadvice.blogspot.com
FITNESS ACTION STEP - Setting Goals Part 2
One of the best ways to stay focused and motivated when exercising is to set measurable and realistic goals.

Last issue we talked about writing specific goals according to what fitness results you want. I recently had an online fitness coaching client decide her goals were going to be to lose inches from her waist and her legs. You could decide that you want to lose weight or gain muscle. It's completely up to you!

After you set your goals, the next step is being accountable to at least one person for the goals you set. If you have a friend, family member or personal trainer helping you stay accountable to reach your goals you will be much more successful.

I encourage you to think of at least one person who can help you stay accountable to your fitness goals. If you need more structured accountibility, I encourage you to try online fitness coaching.

After setting specific, measurable goals and then staying accountable to at least one person -- you will have improved success in reaching your fitness goals! If you ever have a question, don't hesitate to contact me!
HEALTHY RECIPES - Pork Chops with Apples

Prep Time: - 15 min.
Cook Time: - 15 min.
Spicy: - Mild
Difficulty: - Easy
Budget: - Inexpensive



For a sweeter taste, use Macintosh apples; for a tarter flavor, use Granny Smith apples. Apples are a good source of fiber. Serve with rice, and a steamed green vegetable or crunchy green salad. If you prefer, bake pork chops in a 350° F oven for 25 minutes instead of cooking on top of the range.

INGREDIENTS:
4 small apples
4 pork chops, 1/2" thick, trimmed of all fat vegetable oil spray
1/4 tsp. salt and 1/8 tsp. pepper (optional)
1 Tbsp. vegetable oil



Core apples and cut into thin slices.


Heat a non-stick skillet over medium heat. If not using non-stick skillet, spray lightly with oil. Brown chops in skillet on both sides for 3-5 minutes. Sprinkle with salt and pepper if desired.


Push chops to center of skillet, and place apples around meat. Lightly drizzle oil over apples, and cook for 5 minutes, browning apples on both sides. Serve.

Yield: 4 servings--Serving Size: 1 pork chop, 1/2 cup apples

Each serving provides: Calories: 250, Protein: 19 g, Carbohydrate: 21 g, Fat: 10.4 g, Fiber: 4 g, Sodium: 42 mg, Cholesterol: 52 mg, Vitamin A: 8 RE, Vitamin C: 8 mg, Iron: .9 mg, Calcium: 20 mg,

Reprinted from the U.S. Dept. of Agriculture's publication, Food, Family & Fun: A Seasonal Guide to Healthy Eating.
ASK YOUR FITNESS QUESTIONS - What is Your #1 Most Pressing Fitness Question?
Send me your #1 most pressing fitness, exercise or health question and I will begin answering your questions on my exercise blog! Submit your questions here: www.abs-exercise-advice.com/question.html.
Comments? Ideas? Feedback? This journal is for you, so please tell me what you think. I'd love to hear from you! Simply reply to this e-mail with your comments.
Until next month,
Shelley Hitz