FREE Exercise Advice Journal!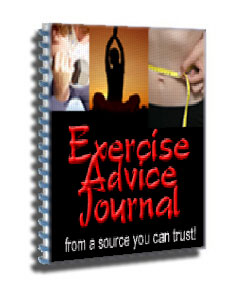 Why subscribe to the Exercise Advice Journal?
FREE subscription
Periodically delivered to you through e-mail - convenient & easy for you!
Stay motivated for exercise through our encouragement and support
Learn new exercises with step-by-step instructions and animated pictures to keep your exercise routine fresh
Get your fitness questions answered
Receive healthy recipes for you and your family
And MORE!!

When you sign up TODAY, you will receive a *Free* Weightloss E-book -- Including One *Free* Animated Workout!

Your link to your e-book will be given to you in once you confirm your subscription.

Abs Exercise Advice exposes the fitness lies to give you the hard to find fitness truth -- so you can succeed.

You won't be disappointed, So Sign Up Today!
We all know exercise is important for health, but that's not all. Exercise gives you:
More Energy




Increased Confidence




More Joy for Life




Increased Pride in Yourself and




More Control over Your Life!




Get started today!




Grab Your FREE Book "Big Fat Lies"
Return from Journal to Abs Exercise Advice Homepage